Description
Benefits & Features
The intuitive target range indicator gives you visual reassurance. It can be individualised to suit your personal therapy goals
Only what you need: Your test result and your averages (7/30/90 days) are visible on the meter
No set up required – just insert a strip, apply a small blood sample, and read your blood glucose result on the large display
Easy-edge test strip: Wide blood application area compared to leading brands. Apply a small drop of blood anywhere along the wide, yellow edge
Touchable test strip: protective coating on the test strip for easy handling
Proven accuracy guaranteed by the makers of the Accu-Chek brand, fulfilling the requirements of the ISO 15197:2013/EN ISO 15197:20151,2
The meter automatically logs your blood glucose results and transfers via USB to your PC
Enjoy virtually pain-free3 testing with the Accu-Chek Softclix lancing device*
Technical Specifications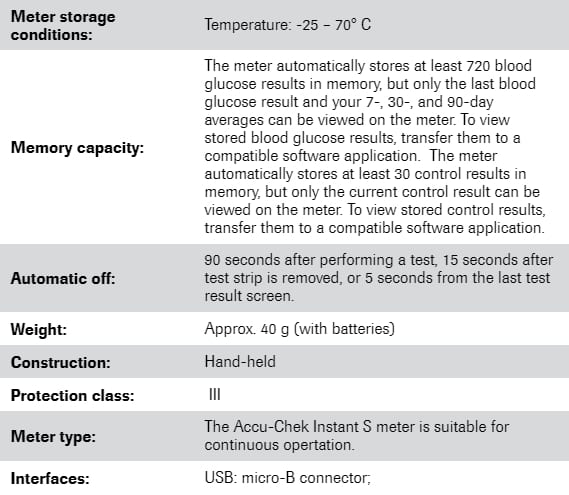 *For single paitient use only.
1. Breitenbeck N, et al. Accuracy of a Blood Glucose Monitoring System for Self-Testing with Three Test Strip Lots Following ISO: 15197:2013/EN ISO15197:2015 J Diabetes Sci Technol, 2017,
2. Accu-Chek Instant package insert,
3. Kocher, S, et al., Comparison of Lancing Devices for Self-Monitoring of Blood Glucose Regarding Pain J Diabetes Sci Technol 2009; 3(5): 1136-1143.
Accu-Chek Instant test strips are not subsidised by NDSS. No forms required.