Description
Directions
As a drink
Pour 200mL of water into a cup or shaker and add 4 scoops of S-26 Alula Gold Toddler powder. Shake or stir until dissolved.
As a yummy fruit smoothie
Pour 200mL of water into a blender. Add 4 scoops of S-26 Alula Gold Toddler powder plus your choice of fruit e.g. banana. Blend well and serve. Freeze to make into fruity ice blocks.
As a substitute
Replace regular cow's milk with S-26 Alula Gold Toddler when preparing cereals for breakfast, baking treats or cooking meals for your child.
Feeding Guide
| | | | |
| --- | --- | --- | --- |
| Toddler's Age | Water (mL) | Level Scoops of Powder | Suggested Serves per Day* |
| 2+ Years | 200 | 4 | 1-2 |
*"Suggested Serves per Day" is provided as a guide when your toddler's intake of energy and nutrients may not be adequate. Use only the enclosed scoop in the preparation of a drink. Discard any unfinished serves.
Ingredients
Milk solids, vegetable oils (including soybean), oligofructose, long-chain polyunsaturated fatty acids from single-cell sources (docosahexaenoic acid [DHA] contain milk), emulsifier (soy lecithin), lutein, antioxidants (mixed tocopherols concentrate, ascorbyl palmitate).
Minerals: Calcium, phosphorus, magnesium, iron, zinc, iodine.
Vitamins: Vitamin C, vitamin E, niacin, vitamin B2, vitamin A, vitamin D, folic acid, vitamin B6, vitamin B1, vitamin B12.
Contains milk and soy.
S-26 Alula Gold Junior Premium Milk Drink has no artificial colours, flavours or preservatives.
Nutrition Information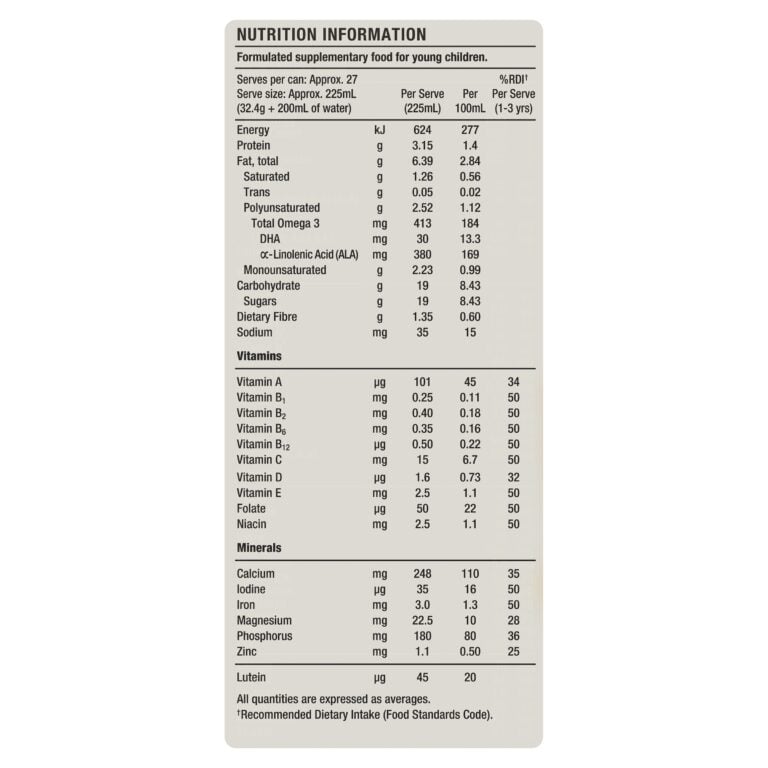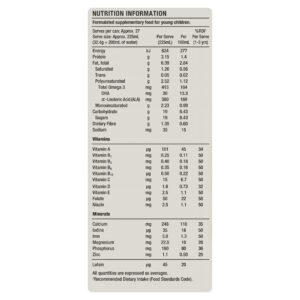 Warnings
Do not use if seal is broken.
Always replace plastic lid after use.
Store can in a cool, dry place (e.g. pantry).
Avoid prolonged storage at excessive temperatures.
Use contents of can within 4 weeks of opening.
'Use By' date and Batch Code see base of can.
Fill is by weight, not volume.
Some settling of the powder may occur.