Description
The importance of Protein and Amino Acids
In addition to Revitalise's vitamins and minerals, Protein and Amino Acids help with all of these health functions, because they are the building blocks all the cells in your body rely on. They also turnover more quickly and regenerate more slowly as you age. Ensuring these vital building blocks are there helps enhance optimal ageing at the time of your life when it becomes more important to support your nutritional intake and make up for any deficiencies.
Boosting your energy
Low GI Revitalise gives you sustained energy, so you can stay active all day long. It is enriched with vitamins B1, B2 and B3. These contribute to normal energy metabolism. Plus folate and vitamins B2 and B3 assists in reducing tiredness and fatigue.
Revitalise stops unwanted weight gain
Whether you have diabetes or not, healthy eating is vital. Healthy eating manages your blood glucose, cholesterol and blood pressure levels better. Healthy eating helps you maintain a healthy body weight, boosts your energy and improves your wellbeing.
Revitalise helps you to stop grazing and snacking. At only 140 calories per serve it is great for maintaining a healthy weight.
Weight loss and weight management made easy
Revitalise makes it easy for you to better manage your weight and lose weight. With low GI foods like Revitalise, carbohydrates break down more slowly. This results in suppressing hunger and reduces cravings. This also reduces insulin load and insulin resistance, which is good news for people with diabetes. The combination of Low GI and healthy levels of protein and fibre means Revitalise helps to stop grazing or snacking. Plus, the soluble fibre in Revitalise reduces carbohydrate absorption, which in turn reduces blood glucose and insulin levels.
A health drink for anytime
Formulated by a professional nutritionist, premium quality BodyCare Nutrition's Revitalise is Gluten free and made in Australia. It comes in three very delicious flavours, vanilla, chocolate and coffee and is full of goodness.
At one serve a day, BodyCare Nutrition's Revitalise will last you 14 days. It is a simple, convenient way for you to obtain nutrients you need. Enjoy it as part of your normal daily diet for breakfast, lunch or dinner.
And if you enjoy a snack between meals, such as morning or afternoon tea, you might as well treat yourself to something delicious and healthy, rather than less healthy foods.
Costs less than a cup of coffee
Each serve of Revitalise costs less than a regular sized takeaway cup of tea or coffee. It is very easy to drink and tastes absolutely amazing. It is a simple way to help with your nutritional requirements, without you having to make significant changes to your diet. Plus it only contains around 135 calories, so weight gain should not be an issue. Its precise doses of nutrients, protein and fibre make it more than an ideal alternative to multivitamins.
So if you'd like to treat yourself, you might as well have something which is healthy for you and tastes delicious. It's your future… why not put life back into your life with BodyCare Nutrition's Revitalise?
Nutrition Information*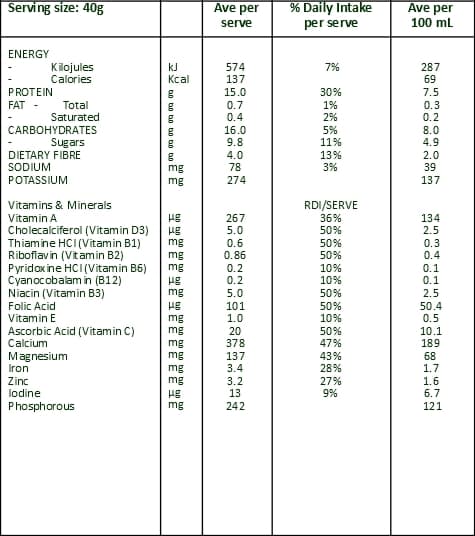 *Based on average amounts.
Ingredients
Dairy Blend (Skim Milk Powder, Milk Protein Concentrate, Whey Protein Concentrate), Glucose Solids, Dietary Fibre (Oligofructose, Acacia Gum, Guar Gum), Vitamins and Minerals (Maltodextrin, Calcium Carbonate, Magnesium Oxide, Ascorbic Acid, Zinc Sulfate Monohydrate, Ferrous Fumerate, Niacinamide, Vitamin E, Riboflavin, Thiamine Hydrochloride, Vitamin A Acetate, Pyridoxine Hydrochloride, Folic Acid, Potassium Iodide, Vitamin D3, Vitamin B12), Sugar, Dried Coffee Powder (1.95%), Natural Flavour.
Contains milk. May contain traces of nuts, eggs and sesame seeds.
Directions
Add 2 level scoops (40 grams) to 200mL of chilled water (from refrigerator) in a shaker, jar (with lid for shaking) or glass.
Shake or stir thoroughly until powder is fully dissolved.
Drink once a day and consume immediately.
Replace cap securely immediately after use and store in a cool dry place.
Cautions
BodyCare Nutrition's Revitalise is a formulated supplementary food, which can be of assistance when dietary intakes of energy and nutrients are inadequate.