Description
Heinz Food Pouch – Apple, Strawberry & Passionfruit
Directions
Simple squeeze into a bowl or onto a spoon and serve.
To serve warm, place pouch in bowl of hot water until warm. Prior to serving, shake gently to evenly distribute heat.
AFTER HEATING, ALWAYS TEST TEMPERATURE BEFORE SERVING TO BABY.
Any uneaten or remaining heated baby food must be disposed of after feeding.
Heinz does not recommend feeding directly from the pouch.
DO NOT MICROWAVE IN POUCH.
Ingredients
Apple Purée (87%), Strawberry Purée (11%), Passionfruit Juice (2.0%).
Nutrition Information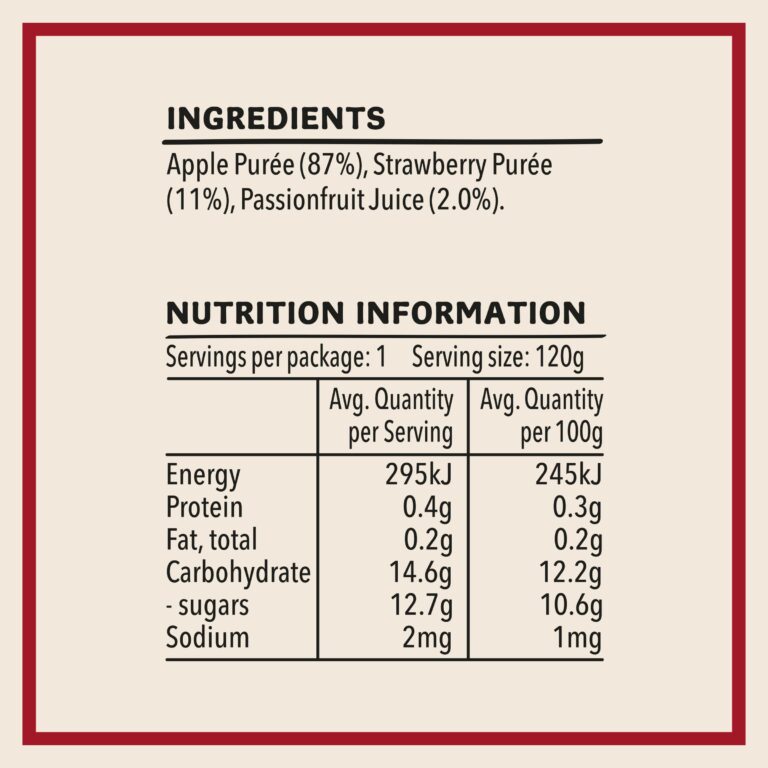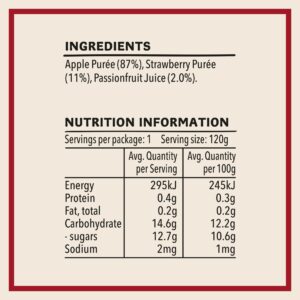 Appropriate protion sizes will vary for individual babies depending on factors such as age, stage of development and appetite.
Warnings
Once opened, store in the fridge below 4ºC and enjoy within 48 hours.
If pouch is damaged or looks unusually inflated, do not feed product to your baby.
THIS PRODUCT IS NOT A TOY. DO NOT LET CHILDREN PLAY WITH THE CAP. YOUNG CHILDREN MUST ALWAYS BE SUPERVISED AND SITTING IN AN UPRIGHT POSITION WHEN EATING.